HostiMloch - WHMCS
Services
Web Development
The HostiMLoch web design service creates website inspired by what's around you. We provide small to medium sized businesses with a full range of Web Services. We offer:
High quality Custom Website Design
Responsive Designs
E- commerce websites
Search Engine Friendly websites
Branding and Marketing Websites
Price Comparison websites
Search Marketing including Search Engine Optimisation, Pay Per Click Advertising and Online Reputation Management
Web Hosting and Domain name services.
Order Now
APP Development
We specialised in developing mobile apps for other companies on iOS, Android and Windows Phone, as well as being experts in social applications and API integrations. If you already have a concept in mind and is just looking for an indication of the budget and scope, feel free to describe the project as much as you can and we will get back to you.
SSL Certificates
Protect your site and gain the trust of your website visitors with our cost effective fully validated Comodo SSL Certificates. SSL certificates are essential and required for e-commerce and secure transmission. We have four types of SSL certificates for secure communication with business, system, portals, mail and more. Our standard certificate, the Essential SSL Domain Validated cover both 'www' and without 'www'. Our Essential SSL Wildcard Certificates are ideal if you wish to have multiple subdomains covered (ex: corp.yourdomain.com, web.yourdomain.com, db.yourdomain.com).
If you are having trouble making the decision which SSL is best for your domain, please contact us using one of the links below.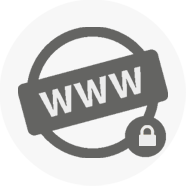 FREE! Domain Transfer
Transfer your domain names to HostiMloch to take advantage of great prices, advanced features and the technology of an award-winning web hosting company. HostiMloch's solid reputation lies on offering the most competitive domain name prices and providing our customers with excellent facilities.
Why register with HostiMloch?
Domain Forwarding
We provide domain forwarding to a host of your choice
Privacy Protection
We ensure your online privacy is protected
Free Email Account
we will give you free email accounts with your domain
DNS Management
You will be able to manage your Domain Name System
Domain Renewals
We will inform you long before your domain expires
Theft Protection
We will advice you when your domain has expired to prevent theft
WHY CHOOSE US?
HostiMloch is designed to provide you with the best and high quality hosting plans and domain registration
24/7 support
Most up to date cpanel
Cost effective
Powered by WHMCompleteSolution